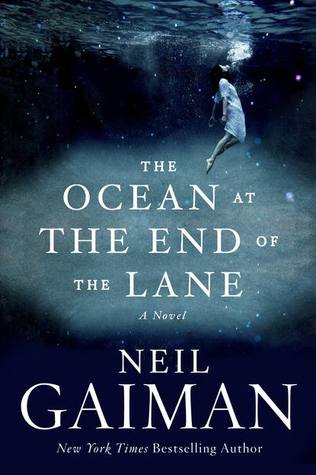 The Ocean at the End of the Lane by Neil Gaiman
Published By: William Morrow Books
Pages: 181
Genre(s): Magical Realism, Fiction
Rating: 5/5 (500000/5)
Purchase it here.
Sussex, England. A middle-aged man returns to his childhood home to attend a funeral. Although the house he lived in is long gone, he is drawn to the farm at the end of the road, where, when he was seven, he encountered a most remarkable girl, Lettie Hempstock, and her mother and grandmother. He hasn't thought of Lettie in decades, and yet as he sits by the pond (a pond that she'd claimed was an ocean) behind the ramshackle old farmhouse, the unremembered past comes flooding back. And it is a past too strange, too frightening, too dangerous to have happened to anyone, let alone a small boy.
This book is a piece of art. The entire time I was reading, it felt as if I was holding a piece of the Universe itself. This story, which is beyond beautiful, felt like it just sort of always existed; felt like magic. The physical book itself is quite remarkable. The front and back covers as well as the deckled edges, really added to the quality and atmosphere of the story.
I'm not going to say much plot wise because it's just one of those books where you got to into blind. And it will blow you away.
Gaiman's books have repeatedly left me breathless. The Ocean at the End of the Lane is one of my all time favorite books but his other books are very close behind.
I highly highly highly recommend this story to anybody and everybody. It's unique and refreshing.
I will read this book to my future children and I hope they will do the same to theirs.
It's so lovely.
Have you read this book before? Let me know in the comments below!
The following two tabs change content below.
Bri is the Harry Potter obsessed founder of Wondering & Wandering. When she's not blogging or traveling, you can usually find her in bed with a good book and a glass of wine.