Room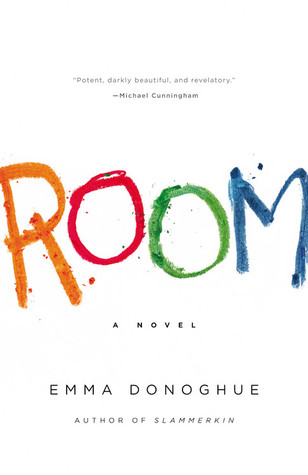 by Emma Donoghue
Published by: Back Bay Books, 2011
Genre(s): Adult Fiction, Contemporary
Pages: 321
Rating: 4.5/5 (rated 5/5 on Goodreads)
Purchase the book here.
To five-year-old Jack, Room is the entire world. It is where he was born and grew up; it's where he lives with his Ma as they learn and read and eat and sleep and play. At night, his Ma shuts him safely in the wardrobe, where he is meant to be asleep when Old Nick visits.
Room is home to Jack, but to Ma, it is the prison where Old Nick has held her captive for seven years. Through determination, ingenuity, and fierce motherly love, Ma has created a life for Jack. But she knows it's not enough…not for her or for him. She devises a bold escape plan, one that relies on her young son's bravery and a lot of luck. What she does not realize is just how unprepared she is for the plan to actually work.
Told entirely in the language of the energetic, pragmatic five-year-old Jack, Room is a celebration of resilience and the limitless bond between parent and child, a brilliantly executed novel about what it means to journey from one world to another.
---
Room captures the story of a boy named Jack, who just celebrated his fifth birthday. To Jack, Room is the entire world and he has never known another human being besides his "Ma". In the beginning of the book, we learn that "Ma" was kidnapped at the age of nineteen while on her way to her school's library. For the past seven years, she's been held captive in a soundproofed garden shed with a coded metal security door and raped repeatedly by her captor, a man she calls "Old Nick." Two years after her abduction, she gives birth to Jack. So to Jack, Room is home but to Ma – it's a prison.
I did some research about this book before writing this review and I learned that this book was inspired by the true story of Elisabeth Fritzl, an Austrian woman who had been imprisoned in her father's basement for twenty-four years, during which time he repeatedly assaulted and raped her. She eventually bore him seven children.
I don't believe I have ever read anything like this before, I was very intrigued. While reading this, I found it SO HARD to put down but I had to because some parts were just that intense, I needed some breathers.
I'll admit, I was worried that the entire setting of this book would take place in Room (which 75% of the novel does) and become rather boring, so I was glad when we got to experience the outcome after the rescue. Speaking of the aftermath, it was really interesting from a psychology standpoint with how Ma reacted compared to how Jack reacted.
I marked this down .5 points because I found that Jack became rather annoying towards the end of the novel. For a five-year-old with an amazing vocabulary range, I could not understand how he continued to speak like a little baby. He's only interaction growing up was with his Ma, a grown adult who speaks normally, so you would think that Jack would adhere to his Ma's speech pattern but he doesn't. That frustrated me quite a bit.
Overall, I really loved this book and I highly recommend it. Just be prepared to shed a lot of tears.
The following two tabs change content below.
Bri is the Harry Potter obsessed founder of Wondering & Wandering. When she's not blogging or traveling, you can usually find her in bed with a good book and a glass of wine.