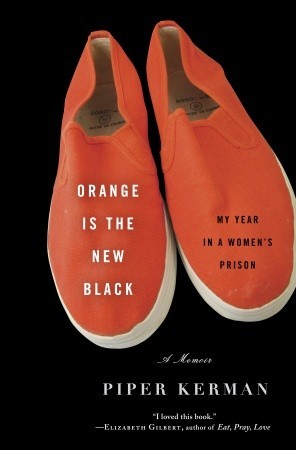 Orange is the New Black by Piper Kerman
Published by: Spiegel & Grau
Genre(s): Memoir, Nonfiction
Pages: 299
Rating: 4/5
Purchase it here
With a career, a boyfriend, and a loving family, Piper Kerman barely resembles the reckless young woman who delivered a suitcase of drug money ten years before.
But that past has caught up with her.
Convicted and sentenced to fifteen months at the infamous federal correctional facility in Danbury, Connecticut, the well-heeled Smith College alumna is now inmate #11187–424 — one of the millions of people who disappear "down the rabbit hole" of the American penal system.
From her first strip search to her final release, Kerman learns to navigate this strange world with its strictly enforced codes of behavior and arbitrary rules. She meets women from all walks of life, who surprise her with small tokens of generosity, hard words of wisdom, and simple acts of acceptance.
Heartbreaking, hilarious, and at times enraging, Kerman's story offers a rare look into the lives of women in prison—why it is we lock so many away and what happens to them when they're there.
---
I've been wanting to get my hands on this one ever since I finished the second season on Netflix, and I'm glad I finally did. Although I wish I would've read (ahem, known about) this before watching the show, I still thoroughly enjoyed it.
This autobiography begins with twenty-four-year-old Piper Kerman in the Brussels airport waiting for her lost suitcase, that is filled with more than $10,000 in drug money she was supposed to deliver for a West African drug lord. Flash forward ten more years, and Piper is now dealing with the consequences of her past by being sentenced to fifteen months in the infamous Danbury federal correctional facility. Not only does she tell her story while incarcerated, but the stories of other women from all walks of life who also imprisoned there.
I was very intrigued by this premise, I've never read anything similar to this before. On the show, I find Piper (well, Taylor Schilling) to be a very annoying person so I was expecting the author to be just as aggravating in the book, but I was wrong. I thought Piper was, for lack of a better word, cool. She handled the ordeal the best she could, accepting the fact that she broke the law so she has to pay for it. That's not very common these days. The book kept me entertained the entire time I was reading, but not entertained enough where I just couldn't put it down. I rated this four stars out five because while I did enjoy this book, I probably wouldn't reread it again. I definitely am interested in reading more books with similar topics.
The following two tabs change content below.
Bri is the Harry Potter obsessed founder of Wondering & Wandering. When she's not blogging or traveling, you can usually find her in bed with a good book and a glass of wine.